ZNH - Black Lives Matter - Series - Black Voices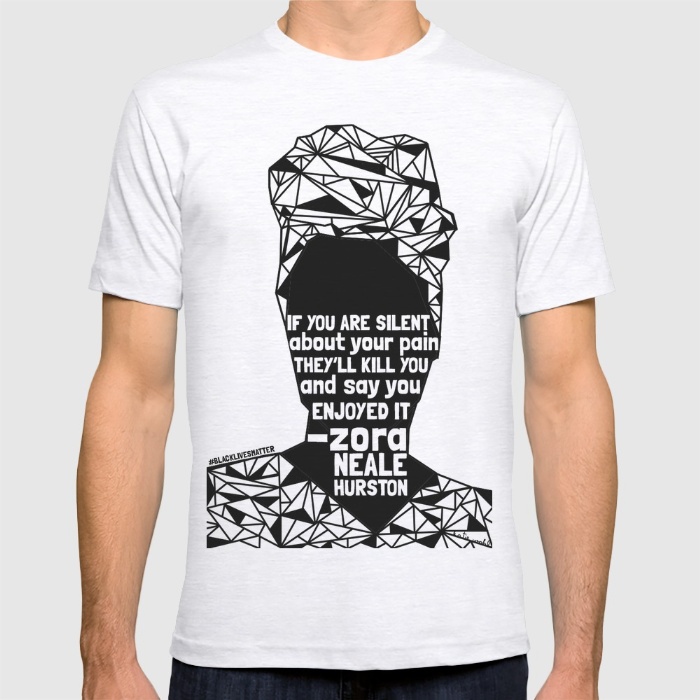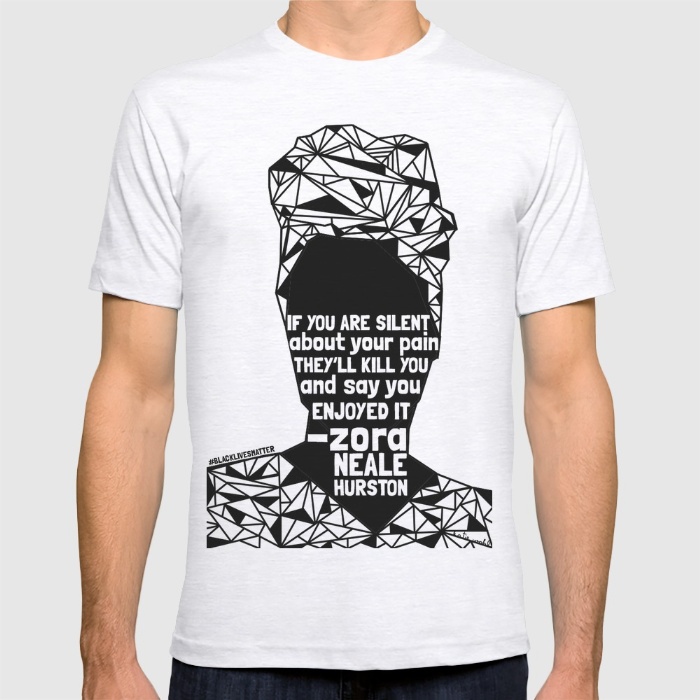 ZNH - Black Lives Matter - Series - Black Voices
"If you are silent about your pain, they'll kill you and say you enjoyed it." - Zora Neale Hurston
For every print and shirt bought in my "Black Lives Matter" series all PROFITS will be donated to the NATIONAL POLICE ACCOUNTABILITY PROJECT (NPAP).

To learn more about what the National Police Accountability Project does in their fight against Police Brutality visit their website here : http://www.nlg-npap.org/

#BLACKLIVESMATTER
American Apparel Fine Jersey T-shirts are made with 100% fine jersey cotton combed for softness and comfort.
About the #BlackLivesMatter Art Series by Katie Wohl
Katie Wohl's art series "Black Lives Matter - Black Voices," was inspired by the frustration and sadness she experienced and saw her community experience after Michael Brown was murdered on August 9, 2014, by Darrell Wilson of the Ferguson Police Department. After years of watching countless black men and women murdered by police officers, security guards and vigilantes in America art became an important outlet. Around the same time, Brown was murdered ALS began a Viral Fundraising Campaign Wohl couldn't help but notice that her social media was giving plenty of attention to the ALS campaign by her caucasian Facebook friends, but hardly any mention from the same group about Michael Brown's murder. Nor were they giving media attention to the protests in Ferguson. This disparity in the level of concern being shown was even more upsetting. So she created art that would not only act as a therapeutic vehicle for her, but that she hoped might resonate with a larger community of people who are taking an active role in the problems in their society and maybe even garner attention from those who remained blind to the structural and institutional issues of race in America. And that by selling her work, she could then donate the proceeds to the National Police Accountability Project. She then started designing black and white portraits of black men and women using quotes from black female writers.
She began with the work of Zora Neale Hurston using her famous quote: "If you are silent about your pain they'll kill you, and say you enjoyed it." From there, her aesthetic for the series was set into motion. Each portrait would feature black and white triangles as well as a face that would be covered by relevant quotes. Her series would include authors such as Ida B.Wells-Barnett, Toni Morrison, Bell Hooks, Audre Lorde, Maya Angelou and Edwidge Danticat.
In her series, which still, unfortunately, is updated by new victims of police brutality and institutionalized racism, so far the series has included: Michael Brown, Trayvon Martin, Eric Garner, Oscar Grant, Freddie Gray, and Sandra Bland. Her designs can be found on art prints, tee-shirts, and cell phone cases. All proceeds are donated to the National Police Accountability Project.
S I Z E G U I D E : TEE SHIRTS
The softest, smoothest, best-looking shirts and tank tops available anywhere. We use American Apparel™ shirts and tank tops, which are made with 100% fine jersey cotton (Tri-fit tees contain 50% polyester / 25% cotton / 25% rayon) combed for softness and comfort. Available in Men's & Women's styles and sizes, all shirts and tank tops are printed using a technology called Direct-to-Garment (or DTG), which lays down soft, durable, full color spectrum prints.